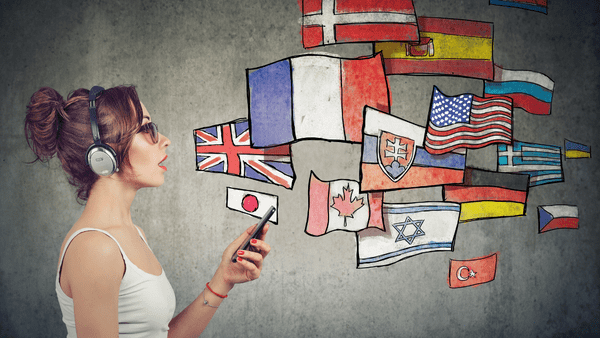 Benefits of a Multilingual Website:
The world continues to be more and more connected as we move through the early parts of 2021. The benefits of having a multilingual website are higher than ever. Especially in Spanish if you're an American business. The U.S. is estimated to have the most Spanish speakers in the world by the year 2050. There are already an estimated 41 million people that speak Spanish primarily in their homes.
In addition, there are many other languages spoken around the world and with how easy it is to offer services online, why not tackle another market? Below we'll discuss 5 reasons to have a multilingual website.
Expand your brand reaching a larger audience
Sure, English is the most spoken language on the internet and the third most spoken language in the world. However, there are still over 700 million users that use Chinese and over 250 million that use Spanish to round out the top 3.
Imagine having the possibility to reach more users for your store and how much easier it be for them to buy from you if it is in their own language? That's a lot of potential new customers that could buy from your store or use your services. They'll also be that much more likely to remember your brand.
Your brand will make a much bigger impact on a person whose primary language is something other than English if they can browse your website in their language. Think about how much easier that would be for the potential client/customer?
You want to make your visitors and clients/customer's lives as easy as possible. This can be accomplished by taking the time to get your website translated into another language.
Client satisfaction and better conversion rates
America is a very diverse country with people from all over the world speaking lots of different languages. The opportunity to improve customer satisfaction is as easy as translating your website. This rings more true with the Spanish language as the number of Spanish speakers continues to rise. A lot of marketers will tell you to speak your customer's language. Well, this quite literally means to speak your customer's language. If your website is translated in Spanish and one of the 40 million plus native Spanish speakers come across your website, then the chances of you converting are much higher.
As a service business, this will help you to attract more clients. However, this is even more helpful as an e-commerce store. Not only could you attract more customers in America, but this could make your store and business more global giving you access to far more potential customers.
Improve your SEO ranking
That's right! Google will reward you for having a localized website and translating it into more than one language. Why? It's because Google is trying to rank websites that provide users value. Translating your website into Spanish for Spanish speakers, French for French speakers, etc. shows you care about your visitors.
You can localize your website based on different regions and even in the U.S. for Spanish speakers. This relies on what is called a hreflang tag that goes in the header of your website. By defining this for your different languages, it tells Google to scan your website in that language. This helps your ranking due to localization.
Worried about duplicate content? Don't be! Google doesn't count content in different languages as duplicate content. Again, just make sure you define the language within the hreflang tags.
Also, you can rank for keywords in other languages as well. For example, if you're an American business targeting the LatinX community, you can have your keywords in both Spanish and English. This will give you a huge boost as not many companies are making the effort to rank for SEO in Spanish in the U.S.
Increase website traffic
Building off of what we discussed with SEO, you will also find you will get more website traffic. Having more people visit your website is always a good thing as you have a higher chance of getting a new customer/client.
This ties directly with your SEO. If you're exposing yourself to new keywords and a bigger market, more people will find your website. Also, you can work with bloggers and other social media influencers to work on giving you a shoutout.
If you're working on a campaign, then you may want to consider releasing a press release explaining why you did so. A little luck and you might get picked up by a news team and this will provide backlinks and exposure. This would work particularly well if you do it in an area where Spanish speakers or people that speak the language you've targeted have a high population.
Make more money!
Let's be honest, you wouldn't put forth the effort to translate your website unless you were going to grow your revenue. I think it's pretty clear that your revenue would be likely to grow based on the reasons stated above!
If you have an e-commerce store then this is definitely something to consider. A survey done by the Common Sense Advisory found that of people who don't speak English natively, 75% of them prefer to buy products in their language. The likelihood of converting a visitor will skyrocket if your website is in their native language.
As a business owner, you want to give yourself the chance to capture clients and customers in as many ways as you can. Opening yourself up to a new market would be a great way to give your business a chance to grow its revenues.
Conclusion
It seems like a no brainer doesn't it? Having your website translated into more than one language will open doors to more clients/customers. More website visitors will hopefully translate into more leads/sales if your website is optimized for conversions.
You will also be building more trust for your brand. This shows that you care about your clients/customers. Visitors will see this and if you're speaking to them in their native language, then they will be thrilled and more likely to do business with your company.
Google will also reward you with higher search rankings recognizing that your website is looking to provide value to website visitors.
I hope you found this article helpful and it has helped you make the decision to translate your website into another language! WordPress offers a wide range of plugins and you can easily have your web developer do this for you. If you have a custom built website, there are lots of great ways to add languages that your developer can help you with.
Looking for some guidance on how to do so? Feel free to book a free consultation and I can help answer any questions you may have!