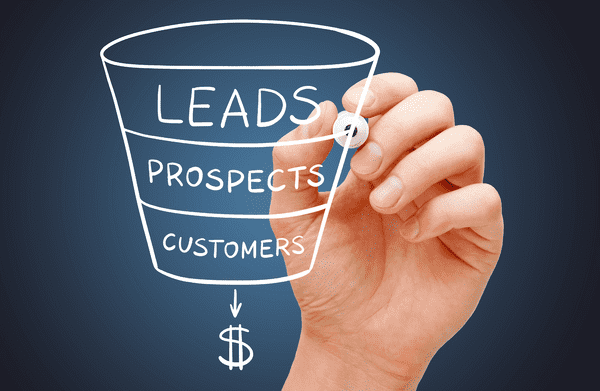 Quick ways you can improve your sales funnel:
A sales funnel is an important part of any sales and marketing strategy. There are many types of sales funnels and the content you can provide within them. For example, you can have a free giveaway like a checklist, access to a webinar, a recorded video series, an e-book, how-to tutorials, and more.
How you go about presenting your sales funnels to your audience makes a big difference in the success of your goal. Using a landing page on your website is a great way to provide information to your prospect about the offer.
There are many factors that go into the success of your sales funnel and we'll go over 5 tips to help you improve your strategy.
1. Understand your audience
The first and arguably most important thing to do is to make sure your offer is designed for your target audience. You need to understand the type of audience you have and craft your offer towards them.
You can do this by looking at your website analytics and the types of engagement you're getting on social media. What are the professions of the people that are most engaged with your content? What type of content are they engaging with?
By answering these questions it will give you a great idea of who your audience is. This will make it much easier to come up with a webinar, ebook, or whatever content you want to offer that is catered to your audience.
An example is if you are a personal trainer and the engagement you get is more geared about how to build muscle. Your offer and content will need to be different than say a trainer that focuses on weight loss. Thus, you need to create an offer that focuses on how to gain muscle. Vice versa if your audience is reacting more with questions on how to lose weight.
Having an understanding of your audience helps you craft offers, provide value, solve pain points, and speak your customer's language leading to more sales.
2. Create educational content and provide value
Providing value to your audience is the theme of marketing in 2021. In a global marketplace and with the rapid growth of the internet, providing quality content and value to your audience will help put you ahead of the pack.
You can use the same method as above to figure out the best type of content that you can be creating for your target audience. What is your audience posting about? What are they asking most? What are their biggest problems?
Find out the answers to those questions and craft your content around that. You can also research what type of content is best. Test creating blog, video, audio, visual, and text content and see what gets the most engagement. This is different for every social media platform.
For example, Facebook has a user interaction with videos, Twitter with quick and easy tweets and threads, Instagram highlights visuals, and LinkedIn is great for video and text content. Find out what works best for you and your audience.
This will go far in helping you engage and develop trust with your audience. Research by Conductor suggests educational content makes it 131% more likely that your consumer will buy from you. Create content that provides solutions to your consumer's biggest problems.
3. Display proof your offer works
Remember the trust part I mentioned in the last paragraph? This is the part where you can help add to that trust! In a marketplace where anyone can offer products and services, building trust is what can make you a sale versus being another person with an offer.
Show testimonials, reviews, or share customer stories on your landing page. People want proof and showing other people's success will make them trust your offer more.
Use text, images and video to highlight your satisfied clients and customers. A video testimonial is very powerful as it creates more of a human connection with the visitor and your brand. If you can, use images next to the text of your testimonial.
You can also display your Google MyBusiness, Yelp, or Facebook reviews on your landing page as well.
4. Make the process easy
Ease of use is so important in your funnel process, websites, and all aspects of your sales funnel. You don't want to ask too much from your visitor and potential customer as that can lead to high cart abandonment, higher bounce rates, and failed conversions.
The type of information you need from your visitor will vary depending on the offer that you are offering. Obviously, the more information you have about your potential client/customer is helpful, but isn't totally necessary. If you are just offering a simple checklist for signing up to your newsletter, a simple email address and name is really all that is required.
However, if you have a multi-step process for example when registering for a webinar, then you can try and separate the steps. You can ask for 1-3 things on the first page, then provide a next step to finish the required registration.
For example, you can ask for the name and email address of your visitor in the first step, and then bring them to a page asking for their credit card information to secure the purchase. This way it feels from a psychological perspective that the process is quick and easy rather than overwhelming the visitor asking everything at once.
Website visitors want things to move quickly and efficiently and don't want to spend too much time filling out a form with 8 fields asking for their birthday when it isn't relevant. Make your form easy to fill out and request only the required information. If you need more information then add more than one step and keep each step easy and painless.
5. Capture your prospect's email address
Depending on the type of offer you're giving, capturing your prospect's email address is an important step to nurture that prospect into a potential client/customer. This is especially true for high ticket offers.
For example, if you are offering a coaching service that you expect to charge roughly $1,000.00 or more for then you'll need to bring your prospect along before going for the sale. Convincing a visitor that doesn't know your brand to buy a $1,000 item is not likely.
Instead, you can offer a 30 minute webinar or slide deck that provides the prospect with lots of valuable information and displays your expertise. In exchange for access to the content, you can request their email address. This way you can continue to show the prospect more value and your expertise leading the prospect to develop trust with your brand.
This will make it much easier for you to convince that prospect to buy your coaching service. Why? Because you've provided high value and helped to nurture them along the process and build trust with you.
That sale may come a week after, or 6 months later. However, having their email address and access to engage with them will help bring you steady sales every month. A prospect sharing their email is the first step to engaging with your company.
Conclusion
These are 5 tips that can help you to optimize your landing page and your overall sales funnels. There is so much more you can go into when it comes to sales funnels, but hopefully this gives you an idea of ways you can improve your conversions and capture more leads, plus secure more sales.
A sales funnel is a great way to generate income and use the internet to work for you. A beautiful landing page that's built to convert will be a powerful tool to grow your business. It may require some work up-front and tinkering with the process, but once you have it down it will be a money making machine!
As always, if you enjoyed this content! Be sure to subscribe to the CheshTech newsletter for more content and get your free online business checklist to make sure you're ticking all the boxes when establishing your online presence.