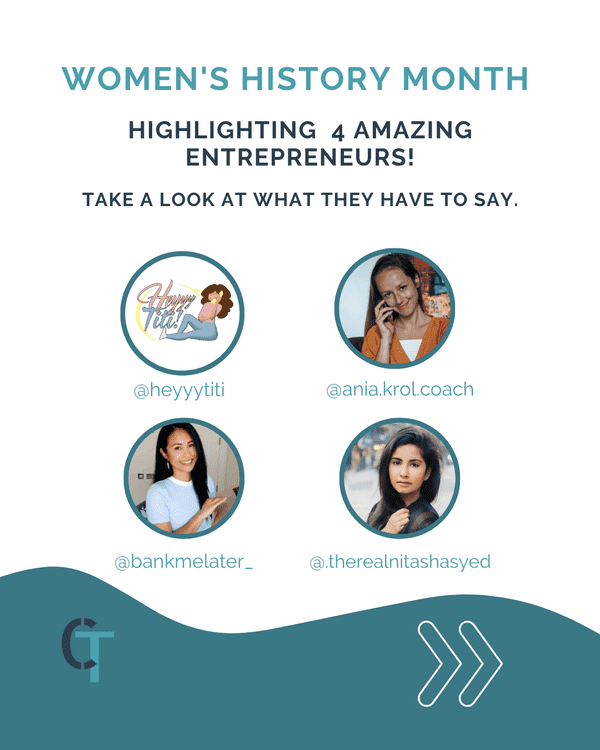 Highlighting 4 entrepreneurs for Women's History Month:
One of the future goals and plans at CheshTech is to highlight amazing entrepreneurs that are working to help, support, and provide positivity with their business. March was Women's History Month and we thought it would be a great opportunity to highlight some incredible women entrepreneurs.
We were fortunate enough to have quite a good turnout and response from our outreach. We had to bring it down to just 4 entrepreneurs as that was what was going to work and fit best with the video we had.
These entrepreneurs represented parts from all over the world showing the power of entrepreneurship in all parts. Take a quick look at the 4 entrepreneurs we highlighted and the work that they do!
Nitasha Syed: Product Manager at Rally Health & the host of Shaam ki Chai: Conversations with Pakistanis
Nitashi is a product manager at Rally Health and is based out of San Francisco, California. She is also the podcast host of Shaam ki Chai where she chats with Pakistanis about the cool things that they are doing.
Nitashi spoke at length about her passion for women in tech and equal opportunities for women in the workforce. She highlighted women in STEM fields in her previous business called Unboxed before having to shut it down upon COVID.
They worked to dismantle the stereotypes surrounding beauty and intelligence with women. A problem and a prejudice that is seen amongst not only men, but in women too.
"I've interviewed a lot of women for my company Unboxed and a lot of women held the prejudice of when they see a beautiful girl or an attractive looking woman, they don't think that she will be good at math or science. Why is that? That doesn't make any sense." Syed said. "These narratives are actually pushed in the media, they're pushed in stories, there are whole entire characters are built around these prejudices and young girls will consume that and limit their own career choices later on in life and I think that's ridiculous."
You can follow Nitashi on Instagram and check out her podcast as well on YouTube to hear all about the cool things Pakistanis are doing.
Ania Krol: The Freelance Coach
Ania is known as The Freelance Coach and helps entrepreneurs across the world with their mindset in order to tackle the challenges and every day grind that entrepreneurs face.
She also helps her clients with how to become a freelancer and be a small business owner, while also helping them attract and retain clients. Ania works to help entrepreneurs become successful.
She works with both women and men, but primarily has a client base of women and is working hard to push equal opportunity for women as entrepreneurs, and in leadership positions.
"We are getting into having a moment where we are having equal access to everything." Ania said. "For me, this is the most important thing as it's not about women having more, men having more, it's about healthy competition in the market and everybody having the same start."
You can follow Ania on Instagram and YouTube and can also check out her website.
Hal Nguyen: Bank Me Later
Hal is the founder and owner of Bank Me Later where she educates, works with, mentors and promotes financial well-being for entrepreneurs. She primarily focuses on millenial women and helping them with their financial strategies and to be financially independent.
She lives in London and also supports care leavers, while supporting social mobility through higher education. Her entrepreneurial journey began at eight years old to add some pocket money. An active entrepreneur she now works to help and share her knowledge to other entrepreneurs.
In addition, she helps to mentor young people toward a successful career in finance. An area where she says women are working to get more involved in.
"Finance and investing has always been an intimidating subject for females." Hal said. "Adding on top of that, the industry has been facing a lot of scrutiny in recent years and so women shy away from finance and investment altogether not knowing the industry can work well for them. By using my knowledge, being 100% transparent and honest, I'm able to attract a lot of women to my platform as well as men."
Looking for financial tips and how to become financially independent? You can check out Hal on Instagram and go to her website to learn more.
Titi Jessy : Heyyy Titi Podcast
The HeyyyTitit podcast is run by the podcast hosts Titi Jessy and Titi Mary. The podcast touches on a range of different topics like health, wellness, family, and spirituality. A core theme of the podcast are the experiences of being LatinX and celebrating the different types of culture.
The podcast is fresh and has recently been released spanning 10 episodes but it is well worth the listen for all communities, but especially so if you come from a LatinX background and community.
Titi Jessy created the podcast with her niece in mind and in doing so realized the reach could be much greater.
"The moment we decided to create this podcast was after many discussions and we realized we wanted to provide a space where we could give honest, open, and candid information about topics such as health and wellness, family, relationships, spirituality and about being LatinX." Jessy said.
Check out the podcast and follow their page on Instagram for an entertaining and informative discussion about important issues that can help you grow as a person.
Special Thanks!
We want to thank all 4 entrepreneurs for participating in our video and create awareness and promote women entrepreneurs for Women's History Month. We recommend following all of them and supporting their journey's!
A special thank you to Raquel Cespedes Diaz a.k.a Digital Raquel and her work on the video. She does a terrific job as a social media manager and marketing consultant. Check out her Instagram page for awesome photos and her website for more info about how she can help you with your social media strategies.
Check out the video on our Instagram page.