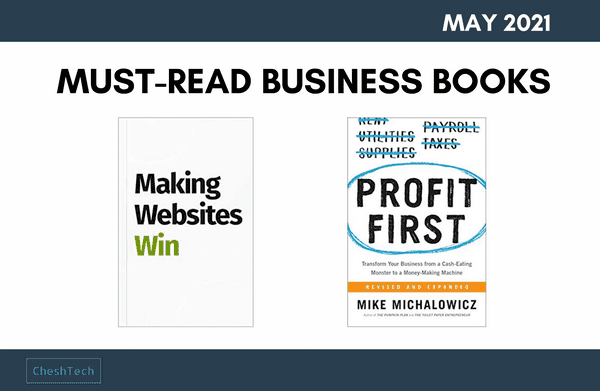 CheshTech Picks of the Month:
Welcome to the May business book picks of the month! In case you haven't seen, we've changed up the CheshTech approach a bit as we'll be focusing more on tips that will specifically help you with your business. For that reason, I'll be giving two business book picks of the month instead of a business and personal book.
This way we can provide you with more tips, content, and inspiration that will help you grow your business.
This month I wanted to pick two books that have done well to help me and my business, and also something I think will help you with yours. These two books are very productive and offer valuable insights that will help your business become a well oiled machine.
We are featuring Profit First by Mike Michalowicz and Making Websites Win by Karl Blanks and Ben Jesson. Let's get started with this month's review!
Profit First by Mike Michalowicz
Profit First is a crucial book to help you with how you should be approaching your business's finances. This book helps you understand the importance of being organized with your finances to make sure that your business is in the best position possible to grow and survive.
The main concept of the Profit First book is that you should be paying yourself first and also paying your business a profit. By understanding this, it will help you make financially responsible decisions about the essentials of what your business needs.
There are times that business owners think they need and have to have certain items, but can actually find other solutions when they have a proper budget set-up. Profit First helps you to prioritize your operating expenses.
Business finances are a big reason why small businesses eventually go out of business. A lack of financial planning and organization can really hurt your business in the long run. Profit First will get your mindset in a good place so you can ensure you're taking the right precautions to keep your business profitable.
Making Websites Win By Karl Blanks and Ben Jesson
As more and more users want to buy their products through online stores and do their research online, it's more important than ever to ensure your website is fully optimized. A website is beginning to replace the old brick and mortar store and setting it up with the user in mind to optimize their user experience will make a difference in how successful your business is.
Making Websites Win is a fantastic book that goes into great detail about the strategies you should be taking to build, design, analyze and manage your website. This is especially true if you are an e-commerce store where your sales depend on how effective your website is built.
The book does a tremendous job at outlining the best strategies to create conversions on your website through proper placement of Calls to Action, pop-up forms, contact forms, branding, and website design.
It also shares their secrets about how you should be using Google Analytics, heat maps, and analyzing user behavior on your website. All of these things go far in helping you to maximize the user experience and convert more visitors into customers or clients.
I highly recommend this book to all business owners that are looking to maximize their sales on their website. A website is a very effective tool when used correctly and this book shares the ways you can get the most out of it.
Conclusion
Another edition of the #CheshTechPicksofTheMonth is complete! I hope you found these reviews useful and that you're considering adding these books to your bookshelf. They are powerful and offer great insight into helping you with your business.
Again, we will be focusing on just business books for the time being as we want CheshTech to be a place where business owners and entrepreneurs can get tips that will directly help them with their business.
What do you think of this month's picks? Share your thoughts with us on Facebook or Instagram and let us know what books we should read next!