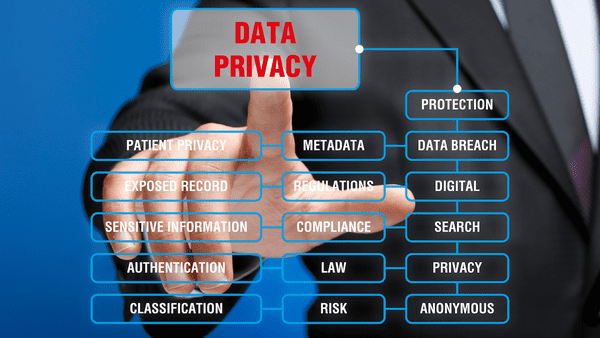 What is Data Privacy Day:
Data Privacy Day is a worldwide event that helps bring awareness to the importance of understanding the security for your personal data. We continue to be more connected than ever digitally. A fact that has been accelerated by the global pandemic.
Here at CheshTech, we want to help you understand the importance of keeping your personal data private. Here are some quick tips for you to help protect your business and yourself from identity theft and to avoid phishing scams.
What exactly is data privacy and why should you care?
Basically, data privacy has to do with any aspect related to when, how and the extent that a customer's or end user's sensitive data can be shared with third parties over the internet. This includes all sensitive data like your name, contact information, credit card number and more. This includes data that is in relation to how you conduct yourself online. For example in social media for what you like.
It's so important to be aware of this because this is YOUR data! The internet is a complicated and relatively new space for people. Sometimes you forget just how easy it can be to have your information exposed if you're not careful.
As a business owner, being transparent about how you're sharing and using your customer's data can help build a lot of trust! People are getting smarter and more hesitant to enter private information online. That's why being transparent can go a long way in helping you gain their trust.
Tips to keep your personal, company, and employee information safe
Here are a few tips to keep your data safe and practices to follow to make sure you're not exposing yourself or your company to scams.
1. Understand what is considered to be personal information
Understanding what is considered to be personal information is the first step to make sure that you're aware of what it means to share your data online. Knowing that things like your name, address, and birthday among your credit card numbers, social security number, and any other identity information shouldn't be shared unless it is a trusted source.
This is especially important if you're an employer. You want to make sure your employees aren't entering any sensitive company information online into untrusted sources. Otherwise, this could lead to complications not just for that employee and the company, but also any user info you might be storing.
2. Avoid entering sensitive information when you're on public WIFI
Everybody is tempted to do a little shopping or engaging when you have some down time at the airport or another public place. However, this is generally not a good idea as these networks may not be the most secure. This makes it much easier for hackers and cyber criminals to steal your personal information.
With this in mind, try to hold that urge to make a purchase online with a credit card on public wifi. It's better to be safe than sorry. Having a VPN (Virtual Private Network) can help give you the needed security.
3. Be aware of phishing scams and be sure to trust your sources
Unfortunately, there are people online that will try to scam you whether it be over email, phone, or text message. In regards to emails, make sure that you recognize who the sender is and don't open any suspicious links or download anything you don't trust. Don't send any personal information that could be used against you.
Follow the same rules for any suspicious phone calls, text messages, or messages from questionable social media accounts.
4. Trust the online store you're shopping from
Trust is the big theme to remember when dealing with your data privacy. You want to make sure you trust the senders of the emails you receive, but also trusting the online store you're shopping from is very important.
Amazon and other big retailers make this easier to get around, but there are a lot of great small businesses that have online stores as well. It's important to support the small businesses and we encourage you to shop from them.
We just want to make sure that you recognize that it is a safe website to submit your personal data like credit card info. Here are some ways to do that:
Check for seals of approval. These often come from third parties and are displayed on the website.
Make sure the website is secure! You can do this by checking the domain name and ensuring that it's a https:// instead of http:/. Don't enter sensitive info on a non-secure http:// website! Most web browsers will provide a warning for you.
Use a strong password on any website that you buy from. This can add an extra layer of security for your account in case of a hacking. A strong password includes a mix of uppercase and lowercase letters, numbers, and symbols. You can also use a password manager for extra security.
If you're a company, you can make sure you require users to enter in a more secure password for their account. Be sure to invest in an SSL certificate and display any seals of approval you may have.
Following those tips will help you to protect your account and not enter your sensitive info on a website that isn't secure.
5. Make sure your antivirus software is up to date
Make sure at your company you've got some sort of antivirus software installed to protect your network. This is so important for your employees and for the sensitive information that your company has.
You want to make sure that your antivirus software is installed to help keep your company's, employee's, and client's information safe from any potential hackers. McAfee is a reputable company that offers antivirus security software.
In summary
Trust is the biggest and most important thing in determining whether to offer up your sensitive information. You need to make sure that the company you are buying from is reputable, and as a business owner, you want your customers to trust your business.
That's why making sure you have an SSL certificate and investing in your website is essential.
These are five questions you should ask yourself before giving out your data:
Who is asking for your data? Make sure the company/person asking for your data has a secure platform and is trustworthy.
What type of data is being asked of you? Make sure that it makes sense. Don't provide your personal data if it isn't in the right context.
Why is the data being collected? Does it make sense legally? Is it a credit card transaction? Banking? Ensure that it's a legitimate reason to be asking for the data.
How is the data being processed? This is where seeing if there's an SSL certificate can help. Also, understanding that the data will be used for validating a purchase.
For how long? This is another question to ask yourself. Check the fine print and see how long that your data will be held for. If it's an abnormally long process then be weary.
Data Privacy Day is becoming more and more important as we continue our digital transformation. It's important to understand that this is YOUR data and you're entitled to keep it safe. Remember to only give it away to trustworthy companies.
We promise you can trust CheshTech so feel free to pop your email in and subscribe to our newsletter for more great tips and a FREE online business checklist to help you get your business set-up online! Thanks for reading!