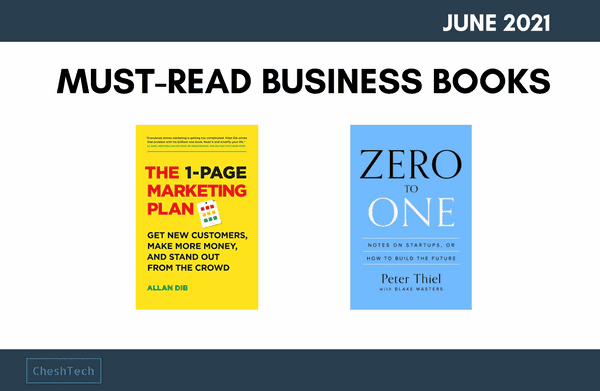 CheshTech Picks of the Month:
It's the end of the month and that means we've picked out two important business books that we feel will help you and your business! Every month we look forward to doing a small book review so you can improve your business and learn new perspectives.
This month we're selecting two books that offer different insights into different aspects of your business. We chose The 1 Page Marketing Plan by Allan Dib. The second book we chose was Zero to Startup by Peter Thiel. The marketing book should be helpful for everyone looking to improve their marketing strategies. Zero to Startup is perfect for entrepreneurs who are looking to create their own product and get into the startup world!
The 1 Page Marketing Plan By Allan Dib
The 1 Page Marketing Plan by Allan Dib is a great marketing book that gives its readers a straightforward approach to building a successful marketing plan. It breaks down your marketing plan into nine steps with three different phases.
Phase 1 deals with the before stage of your marketing plan. This has to do with all of the things that you should be doing to pre-launch your business and create awareness. It helps the reader understand what things they should be focusing on before launching their business.
Phase 2 represents the during phase of their marketing attack upon launch of their business. It directs readers to focus on how to acquire and nurture leads, and also how to improve your sales conversions,
Phase 3 takes place in the after portion of your business when you are beginning to consistently work with customers or clients. It focuses on giving a world class customer or client experience, how to increase customer lifetime value, and also how to stimulate your referral pipeline.
Overall, it's a great book with a straightforward approach to marketing that will benefit most small business owners and entrepreneurs. It's a recommended read that isn't a long book either.
Zero to One: Notes on Startups, or How to Build the Future by Peter Thiel
This book niches down and focuses on entrepreneurs who are planning to have a startup. It's a great book with an interesting approach by one of the most successful entrepreneurs of his time in Peter Thiel.
It's an excellent read for aspiring entrepreneurs and product managers out there. Thiel's approach guides entrepreneurs to focus on dominating a small niche before trying to expand and dominate the entire marketplace.
An interesting take on how to deal with competition in business and dominate your own small market before trying to expand to own the entire market. One thing that stood out to me was the message that a startup's best strength is new thinking.
This approach and the whole idea of innovation is that a startup represents a group of people that is excited to find a new path and explore a new solution to a problem. Thiel also talks about how we should embrace monopolies and how competition is for losers.
It's a great read and definitely worth picking up if you are or aspire to be an entrepreneur with your own startup!
Conclusion
Another edition of the #CheshTechPicksofTheMonth is complete! I hope you found these reviews useful and that you're considering adding these books to your bookshelf. They are powerful and offer great insight into helping you with your business.
These two books are fantastic additions to your bookshelf no matter if you are a small business owner, or if you aspire to work for, or start your own startup!
What do you think of this month's picks? Share your thoughts with us on Instagram and Facebook!