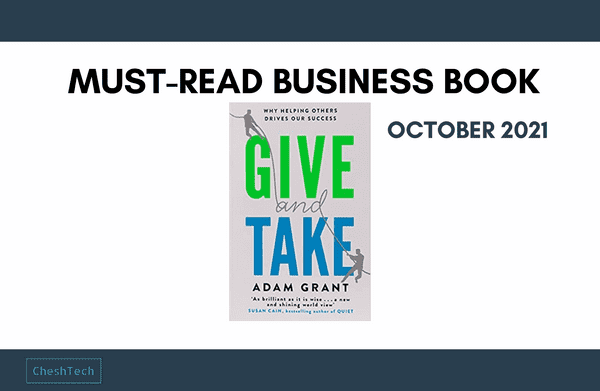 It's one of my favorite times of the month! Time for another CheshTech Book Pick of the Month! This month we want to highlight a book that I feel is one that many business owners should take the time to read to help them understand customer pain points.
We want to recommend the book Give and Take by Adam Grant. This book is a must read in today's business world and is also more relevant in our opinion than some others. The book focuses on the power of networking, collaboration, relationships and how you utilize these to help you be successful in business as a leader.
Here's our official review of Give and Take by Adam Grant.
Give and Take: A Revolutionary Approach to Success by Adam Grant
Success today is generally surrounded by words that tend to be a bit individualistic: passion, hard work, dedication, perseverance, talent and luck. Yes, all those words and traits are very important to success, but often times it's your networking and relationships that help determine how well you do professionally.
Grant takes this approach to the next level and helps to describe to his readers how networking and relationships can lead to greater success than all those individualistic traits.
The book focuses on roles that people may play at work. People generally operate as takers, givers, or matchers. Givers have been proven to benefit over the long run in their workplaces and in business. Takers often times do not have the same success as givers. Meanwhile, matchers can be a product of givers and people who set up networking relationships.
Conclusion
Overall, this is a fantastic book that will teach you about the benefits of networking and going out of your way to benefit others. It's a way that redefines the routes taken to grow your career in business and your own company.
It's something that I have seen in my work experience within CheshTech and in my professional experience in general. I'm a big proponent of giving and doing what you can do to help people. Networking is a tremendous way to watch yourself grow as a professional.