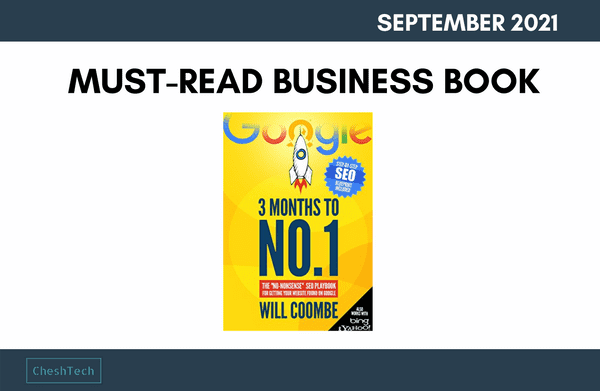 CheshTech: September Book Pick of the Month
We've had a bit of a hiatus from the blog writing on CheshTech and because of that, we've missed a couple months of the Book of the Month series. However, we're back at it now after doing a redesign of our website over the summer months.
This month we want to focus on SEO and that's why we've chosen 3 Months to No.1 by Will Coombe. We feel that sharing our favorite business books every month can help fellow business owners improve their business and work to grow themselves as business owners as well.
Let's get started with our review of 3 Months to No.1 by Will Coombe!
3 Months to No.1 by Will Coombe
The book 3 Months to No.1 by Will Coombe does a great job at outlining some effective strategies that you can do to grow your business using SEO (Search Engine Optimization). Lots of businesses these days want to show up on the first page of Google, but don't have the patience to put it in the long haul work required. This book will give you the keys to sustainable and long term business growth.
Coombe does an excellent job at tapering expectations, while providing all the tips and details to grow your business using SEO strategies that work if you're willing to put in the work. He gives in-depth chapters on the different strategies to increase your traffic organically.
This includes both On-Page, Technical, and Off-Page SEO strategies. He talks about how to properly design your website that is SEO friendly with ways including only using one H1 header with the targeted keyword involved. Also, by using ancillary keywords throughout your content and focusing on trying to achieve close to 1000 words per page.
From a technical standpoint, he describes what you should be doing to build your website, or what you should be asking your web developer as they develop your website. This includes having a robots.txt file, sitemap.xml, and more.
What I found the most interesting was the in-depth off-page SEO strategies that Coombe talks about throughout the book. He details ways you can get backlinks, submit to various site directories, and increase your overall domain authority by Google.
Overall, this was a fantastic read for anyone that wants to learn more about SEO and have a great understanding by the end of the book. Of course, this is not a quick and easy fix, instead it lays out proven strategies that take time but will be worth it in the long run. Highly recommend this novel!
For more reviews, be sure to check out our blog page and see our Instagram for more great tips and content.