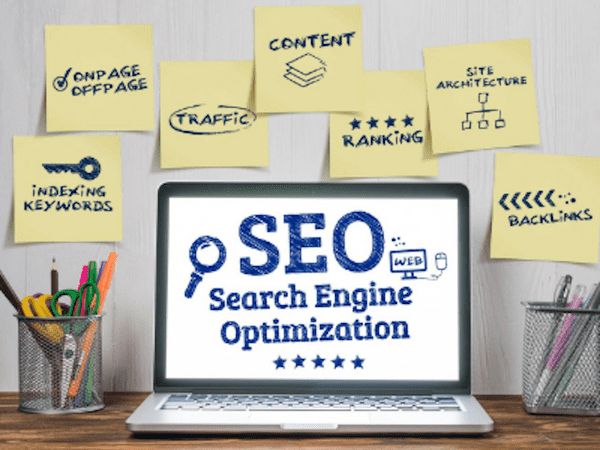 Website SEO
When it comes to SEO (search engine optimization), things can get quite confusing as to what are the best ways to improve your website's SEO. The SEO ways have changed quite a bit over the last decade. Gone are the days of keyword stuffing on your website in order to reach number one. Value is king now.
Google has stepped up their SEO requirements and your best chances of ranking high depend on how much value you are providing to your website visitors. It's a simple, yet very complex process.
In this post, I'm going to lay out some of the best ways you can optimize your on-Page SEO for your website. Setting up your website for SEO success early goes a long way in the success of your business.
How does my website affect my SEO???
There are so many factors that go into how a website ranks for SEO. How about a quick rundown first before we go into further detail? Some of the main things that impact website SEO and your on-Page success are the following:
Keyword density
H1 and Header tags
Declaring your site's language (en, es, etc.)
Sitemap.xml
Robots.txt
Schema.org
Site title and meta description
Social cards
Site Speed
Alt titles for images
Broken Links
404 Not Found Page
SSL Certificates
Mobile Friendly
Bounce Rate/Performance
…As you can see there are quite a lot of factors that play into your website's SEO! I know it can be a bit overwhelming at first, but knowing how to do these tasks on your website will go a long way in helping your SEO campaign.
Let's get to it and dive into some of what these tasks mean.
Website Content (keywords, headers, site title, meta descriptions, alt titles)
The content on your website plays an important role in not just SEO, but also in converting website visitors into leads, and hopefully into clients/customers. Let's start with keywords and how they play a role in helping your SEO.
Keywords are the words that you want your website to rank for when a user puts in a search query on Google. Keyword research is pivotal to ensure you are choosing the correct keywords that you want to rank for. This can be done using tools such as Google's Keyword Planner.
The key is to ensure your website has these keywords, but to make sure that you aren't using the words unnecessarily just for Google to see them. The Google bots will scan over your website and search for the keywords. If your website content matches these keywords, your website will have a chance to show up in the rankings (among other factors).
Having proper headers are important because Google searches for the H1 tags first on your pages. You want to put your keywords in your headers and h1 tags on your website so that Google sees that first.
It's also important to remember to fill out your alt tags on all of your images on your website. The alt tag is what appears to a visitor when they hover over an image on the website and the text appears saying what the image is. You can use a keyword here for the image in order to increase your keyword density.
Lastly, but arguably the most important, you need to remember to properly fill out your site title and your meta descriptions. These are what show up within the Google search queries when your website shows up. Here is an example below..
This is so important because the Google bots will see this and it will tell the bot what your website is about. You for sure want to use your company's name within the site title, and within the meta description to make sure to hit a couple of your target keywords! The meta description is what Google uses as a reference for showing your website within the search queries.
Ideally, you want to have a separate site title and meta description for each page that you have on your website.
Yes, it's a pain to do all of these things, but I'm telling you, it will go a long way in helping your website's SEO! Plus, once you've done it, you won't have to do it fully again! How great is that? The website is now working for you.
SEO For Google's Algorithm and Bot (Sitemap, Robots.txt, Schema, Language, SSL Certificate)
How bout' we get a little technical yeah? This is the part of SEO that is all done behind the scenes! Doing this stuff is important because it makes your website easy to find for Google.
Google uses a bot that is programmed to index pages and websites to find out what the value is for that website. The bot's job is to take search queries, and match the best websites that offer the most value to that query.
Having SEO work behind the scenes is a big step in helping you in the long run. For example, a sitemap.xml and robots.txt file are used by the robots to understand what pages on your website to crawl and scan.
The sitemap.xml is a file that shows the structure of your website. Think of it as a tree and the branches that come from it. On the other hand, the robots.txt file tells the web bots what pages to crawl, and which ones to not crawl. When the bots do the crawling, that's where they are told to go and where they will find the other SEO factors mentioned in the above section.
Schema markup directly helps with your SERP (Search Engine Results Page) rankings as well. The schema tells Google exactly what your page content is all about. This can include the title, description, hours, location, company name, and more about your business on your website.
Setting the language of your website is usually already done for you if you are using a website builder. However, if you are in need of a website that is in multiple languages, remember to add the language tag to the url. For example, www.cheshtech.com/en/about (English) and then www.cheshtech.com/es/about (Spanish). This will allow Google to rank your website for the proper language and not confuse the bots.
One thing that is often overlooked by business owners that create their own websites utilizing WordPress or Wix is forgetting the SSL certificate. Without an SSL certificate, your website will show up as "Not Secure" which is never a good thing for a visitor to your website to see. Make sure you are buying SSL Certificates to make sure your website is secure from hackers, and also make your visitors feel more comfortable being on your website.
Knowing how to do all of this stuff is a different ballgame. WordPress offers plugins to get most of this done for you, but if you are doing a custom built website, ask your developer about implementing these features for you.
User Experience (Bounce Rates, 404 Not Found, Social Cards, Images, Mobile Friendly, Site Speed, and Design Elements)
The User Experience (UX) these days is vital to the success of not just your SEO, but also the effectiveness of your website to capture leads and to achieve your business goals. We could talk all day about the importance of the UX on your website. We'll keep it to just the SEO factors for the purpose of this post.
The UX takes into account many factors, but the main point of it is ensuring the user of your website can find what they are searching for easily. Having a well designed website, proper website structure, and engaging copywriting goes a long way in providing a great UX.
The Google bots will take into account a user's behavior on your website with things like bounce rate, click through rates (CTR), social shares (Facebook, Twitter, Instagram, etc), mobile friendliness, images, and design.
For example, when a user goes to your website but leaves after a couple seconds because your website is slow, that tells Google the website didn't provide the value the user wanted. Google will then take note of this and this will hurt your website's SEO.
On the other hand, if a user goes to your website and engages with the website by navigating through different pages and spending a lot of time there, Google will reward your website.
This all ties back to the beginning where the value you provide a user is one of, if not the most important factor in SEO.
Having a custom 404 not found page, social sharing cards, a mobile friendly and fast website, and a neatly designed website will go a long way in engaging your user and keeping them on your page.
In Summary
If you couldn't already tell, your website is the tool that makes your SEO success go! Your website once again can be one of the biggest factors in the success of your business. Ensuring that it has all these elements while setting it up is crucial to the long term success of your company.
on-Page and technical SEO are just a couple of major factors that play into your SEO ranking. Off-Page SEO like building backlinks and registering in business directories also helps your authority. But that's for another blog post. For now, you can check out more info over here.
Digital marketing and attracting clients to your website won't give you the success you desire if your website isn't made well. Focusing on providing the best value possible to your user will go a long way in capturing leads, building profits, and making your company easily found through organic avenues.
The internet continues to get more and more complicated, but at the same time it's also becoming more and more profitable. Digital Ad spending is expected to be one of the most profitable industries in the 2020's. This signals more businesses are putting an emphasis on driving customers/clients to their websites.
This is especially true with the current global pandemic we are dealing with. You definitely want to make sure you're on the right train as we keep moving forward in the digital age.
Making the investment in your website will be worth the leg work. Yes, it can be complicated and time consuming, but hey, at least you just need to do it once! After you have done all these steps, it is much easier to maintain and it often works for itself.
I highly recommended educating yourself with some reading and research within each of these factors before building your website. If you don't have the time and have the money, then investing in a developer to build your website with proper SEO implementation will be worth the investment.
As always, if you have any questions, please feel free to reach out to me via email, or contact me to schedule a free 30 minute strategy call. Sign up for the CheshTech newsletter for a FREE online checklist and more tips and strategies to grow your business digitally.