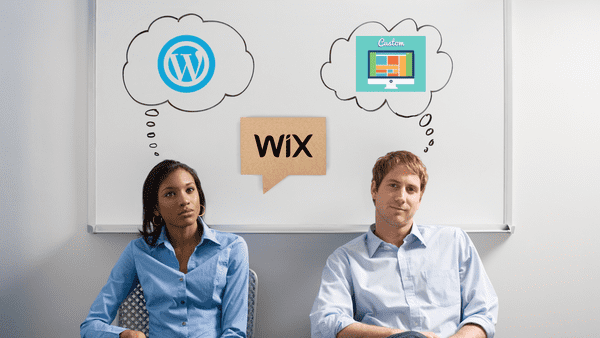 Wix vs. WordPress vs. Custom Built Websites
The world of website creation has expanded a lot over the course of the last 10 years. It is easier than ever to build a website due to the vast amount of options. This can be great, but it can cause some confusion as well.
The main ways to build a website in 2020 are through WordPress (or other CMS platforms), Wix (or Squarespace and other drag and drop builders), and through custom built websites.
What are the differences in websites? Let's dive into Wix vs. WordPress vs. custom built websites so you can make the best choice for your business!
WordPress
WordPress has taken the website world by storm powering more than 34% of all websites. It is by far the most popular way to make websites in 2020. There are a lot of pros that come with working with WordPress.
Benefits
WordPress is fantastic if you are looking to make a lot of edits to your website. It is great to add and swap out images, create blog posts, or update your copywriting,
It is a CMS (Content Management System), meaning that you can manage the content of the website without having to dive into the code. Yet, there is still a learning curve and it's important to understand how WordPress works to optimize your website. Otherwise, you may find that you are actually hurting your business.
There are a wide variety of themes you can choose, as well as templates to build your website. The best part is… a large number of them are free! The paid themes can be worth the price though for performance and quality purposes.
If you don't have any website experience, then I recommend to invest in a WordPress developer to build your website. This is worth the expense to make sure your website has the best UX (User Experience) possible.
Cons
WordPress can be a bit of a headache to maintain if you are not familiar with a CMS. The wide array of plugins are great, but too many of them can slow down your website if not used correctly. They can also create a potential of breaking the code of your website, which could make parts, or all of your website not work.
WordPress sites aren't the fastest websites out of the box, are more vulnerable to security hacks, and you need to be attentive to updates. These are all important to ensure a great user experience.
The biggest downfall of WordPress is the lack of customization that it offers. You are given a wide array of themes to choose from, but that theme will more or less be what you get. Plugins are available, but again, you want to be careful with these.
It can be difficult to add specific features, or design the website to make it unique for your business.
Wix
Wix and Squarespace have both grown in popularity over recent years. They are known as "drag and drop builders." Unlike WordPress, these websites are even easier to use for beginners as you just have to drag and drop as the name suggests to build your website.
Wix does a great job at holding your hand through the site building process. The drag and drop features make it easy to take the designed element and place it where you want it.
Wix also offers a free plan, which obviously is great for people on a budget. But, the free plan does need your website to have a 'built by Wix' on your website. It also doesn't offer access to all the functionality and features offered.
Benefits
Wix and Squarespace both offer a lot of template options that you can use to build your website. The web builder is also fairly straightforward. There are some differences between Wix and Squarespace, but they are more or less the same.
Both of these websites come out of the box faster than WordPress. Wix offers a blog format and it works great, though not to the standard of WordPress.
Wix is the best option to get a website up fast for someone who doesn't have any website knowledge.
Cons
Wix is not optimal for larger websites that have more complexities and features, which limits the types of businesses that can use it.
Just like with WordPress, there is no way to fully customize your website so whatever builder template you choose is what you get. This is a negative if you want to add some personalized customization to your website to make your business stand out.
Wix isn't the best for SEO as growing it organically may take longer than a custom built or WordPress website.
You also have to pay for a premium plan if you want access to Google Analytics. Having Google Analytics on your website is a necessity if you want to run a proper marketing campaign to identify your visitors.
Wix is a great tool if you just want a simple website, and a website won't be a big part of your digital marketing plan.
Custom Built Websites
Custom built websites are a great way to get your website exactly how you want it. You can speak directly with your developer and you can lay out a plan and get exactly what you want.
Custom built websites aren't limited by their templates and themes. Developers can write the sites from scratch, or use a basic design template or theme. These templates and themes are there for just the layout of the website, and the developer can customize the features
Benefits
The biggest benefit of a custom built website is you can get exactly what you want out of the website. If you want a specific feature, you should be able to work with your developer to get it.
For example, if you are passionate about the environment, then you can work with your developer to create an eco-friendly website.
Having a website that is unique to your business can make your website stand out much more against your competition. You can check out my services page to get an idea of other website features you might want.
Site speed is also better with custom based websites as generally the developer will be able to code with this in mind. Not having a lot of plugins like you would on WordPress will also increase your speed.
Having flexibility within the design of your website will also be very beneficial. This allows you to express your company's image, values and message that you want to send to your clients/customers.
Cons
Of course, with all of this flexibility and customization, it comes at a price. A custom website will generally cost you more money than hiring a developer for your WordPress website, or paying for features on Wix.
Also, it can be more difficult to have your website edited at a later time. This is the case if you choose to hire a different developer than who built it. At times, the code one developer wrote might be a headache for another. This can lead the developer to spend more time on the website costing you more money.
All of it can be avoided though if you and the developer maintain a good working relationship. You can also pay your developer a monthly retainer to make any edits to your website.
Conclusion
All three methods to build a website have their place. If you don't have much of a budget, and just want a simple, clean, brochure style website, then Wix or Squarespace would be a good option. Although it can be limited in features, it gives you various themes to choose from to get a nice website up quickly.
WordPress would be a great fit if you are anticipating doing a lot of blogging, adding a lot of images to your website, or making a lot of changes in general. I would recommend that you hire a WordPress developer if you don't have any experience. This is because you want to make sure that you're getting an optimized website that is fully functional with no bugs.
If you don't want to hire a developer, then you can always take a WordPress course and learn over a few weeks to build your own website. However, it is always best to consult with a web professional.
As for a custom website, these are great if you have a budget and want to give your website a unique feel. It's a perfect fit If you don't want to worry about your website and just want a professional to do it. A custom website will also give you the most flexibility in how to design the website.
Working with a professional is beneficial as he or she can make sure your website has all the right features. They can give you a site with a modern design, optimize it for SEO, and provide great site speed to enhance the user experience.
In the end, it is up to you to decide what method is best for you and your business. If you aren't sure, then you can always consult a web professional to point you in the right direction.
Hopefully this post gave you a better idea about some of your options in the world of websites! As always, connect with me on social media and I'd love to hear from you!